New Air Purifiers from Carrier
Fresh air is always good!
Say goodbye to germs, allergens and harmful microorganisms.
Myth 1: The air in my house is clean. Reality: And yet! The air inside a house can be more polluted than the air we breathe outdoors. More polluted than a city's busy street, with consequences for our health. Myth 2: Germs in my house? No way! I clean and ventilate every day! Reality: Of course, the meticulous and frequent ventilation of a house is a must, but we must not forget that it is not enough. Suspended particles from household cleaning products, from burning wood in the fireplace or stove and from cigarette smoking, even dust from the fabrics of our furniture and clothes or the hair of our pets can be harmful to the human body.
At Carrier, with more than 120 years of experience in home microclimates, we know very well how beneficial to our health is the fresh air in our home. Precious as the fresh air we breathe when we are in nature.
Our constant concern and goal is to create products that can significantly improve air quality in all interiors to make every home carefree and safe and most importantly, the people who live in it to enjoy a perfectly healthy atmosphere, every day.
Carrier's innovative Novel Air & Pioneering Air air purifiers, tested in thousands of homes around the world, are here to clean up for you and your family.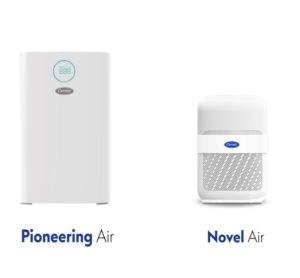 With top quality construction and the power of the most advanced cleaning filters, Novel Air & Pioneering Air air purifiers, bear the signature of Carrier, ie the inventor of modern air conditioning.
Novel Air and Pioneering Air can effectively clean the air of any interior, from 14m² to 73m². They guarantee the highest air quality and healthy atmosphere, thanks to their innovative features:
HEPA H13 (High-Efficiency Particulate Air, Class H13) filter: traps more than 99.95% of airborne particles, such as germs and allergens, ensuring a high quality atmosphere in your space.
Pre-filters that capture and remove large particles such as dust, pollen and pet hair.
Ionizer that neutralizes germs, allergens and unpleasant odors, rejuvenating the atmosphere, as if you were in the fresh air of a forest.
Activated Carbon Filter that removes unpleasant odors 10 times more effectively, such as that of a cigarette.
Pre-installed aromatherapy kit (Novel Air) so you can enjoy the benefits of essential oils and air purification together.
DC Inverter technology that guarantees low power consumption and low noise level.
Air quality indicator: Carrier air purifiers recognize existing air quality and their light indicator changes color depending on the level of air purity: Excellent (Blue), Good (Green), Moderate (Purple), Poor (Red)
Breathe fresh air. Feel confident. Turn to the experts.
Discover all Carrier Air Purifiers here.
#CarrierYourComfortZone