AHI Carrier Europe certified according to ISO 14001: 2015 standard
Athens, April 5, 2022 – AHI Carrier Europe now certified according to ISO 14001: 2015 standard.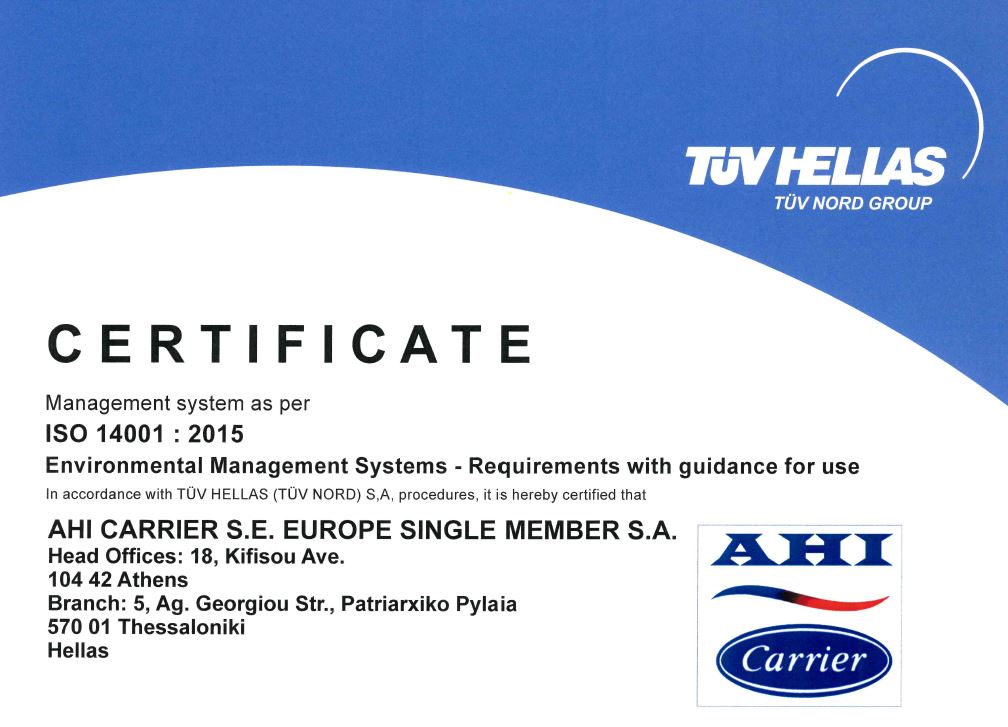 Guided by the growing awareness of the public and consumers on environmental issues, ISO 14001: 2015 is an international standard that defines the requirements of an environmental management system.
AHI Carrier Europe, a leader in heating, air conditioning and refrigeration solutions for home, commercial and industrial applications, operates in South East & Central Europe and is responsible for the distribution and after-sales service of Carrier and Toshiba air conditioning products. With the implementation of this certified environmental management system, it gains another competitive advantage. Also, this certification complements the existing series of certifications held by the company: ISO 9001: 2015 and ISO 45001: 2018.
The benefits of ISO 14001: 2015 certification are many, both for the company itself, but primarily for the environment and among others, include:
Energy saving
Savings in the consumption of raw materials and other resources
Continuous improvement of environmental performance
Reducing the risk of environmental damage
Compliance with environmental laws and regulations (at national and European level)
AHI Carrier Europe, now certified according to ISO 14001: 2015 is committed to the following:
Creating an environmental policy with the ultimate goal of preventing pollution, complying with all environmental laws and regulations and continuously improving its environmental performance,
Identification of all environmental aspects arising from the company's activities,
Defining environmental objectives related to environmental policy.
By choosing a home or professional solution of AHI Carrier Europe you can be sure not only of the optimal operating efficiency, guaranteed reliability and the ideal indoor climate, but also contribute to the protection of the environment to create a sustainable environment for future generations.
Home Solutions
Carrier home solutions meet the strictest quality standards and provide maximum comfort with features and features specifically designed to meet all your needs. Browse the full range of solutions we offer you and choose the one that suits your needs:
Divided Press Systems, https://ahi-carrier.gr/product-category/home-solutions/air-conditioning/inverter-air-conditions/
Multi-Divided Systems, https://ahi-carrier.gr/product-category/home-solutions/air-conditioning/inverter-multi-systems/
Portable Air Conditioners, https://ahi-carrier.gr/product-category/home-solutions/portables/
Dehumidifiers, https://ahi-carrier.gr/product-category/home-solutions/dehumidifiers/
Air Purifiers, https://ahi-carrier.gr/product-category/home-solutions/katharistes-aera/
Professional solutions
You can browse the full range of professional solutions here: https://ahi-carrier.gr/business-solutions/